Drake, The Chainsmokers y Twenty Pilots acaparan las nominaciones
premios-billboard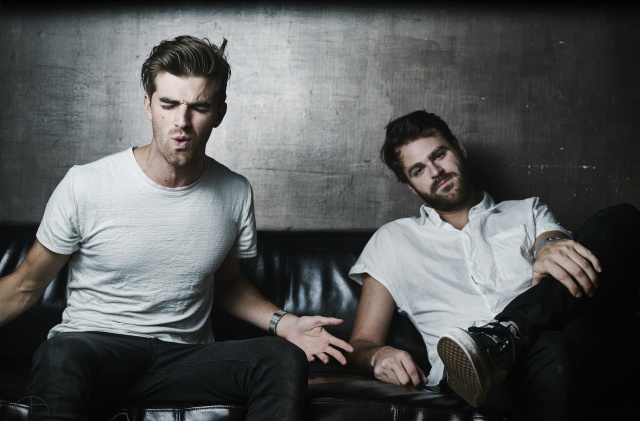 Los Billboard Music Awards, los premios que celebra anualmente la prestigiosa revista estadounidense
Billboard, ya tienen lista de nominados.
Y, también, claros favoritos:
Drake y The Chainsmokers lideran el listado con 22 nominaciones cada uno.
Entre estas figura la de Top Artista (Mejor Artista), una de las más consideradas.
Les siguen Twenty One Pilots, con 17 nominaciones;
Rihanna con 14, The Weeknd con 13 y Beyoncé con 8.
Drake, Rihanna, Beyonce & The Weekend dominate the 2017 #BBMAs nominees https://t.co/HkSqrP0soZ pic.twitter.com/IEqyq5QurL

— billboard (@billboard) April 10, 2017
En cuanto a los criterios que se han seguido para elaborar la selección, Billboard alude a la
"interacción de los fans con la música de estos artistas"
en forma de ventas, emisiones en radio, asistencia a conciertos y seguimiento en redes.
Las principales categorías de los
Billboard Awards 2017:
Mejor artista:

Adele
Beyonce
Justin Bieber
The Chainsmokers
Drake
Ariana Grande
Shawn Mendes
Rihanna
Twenty One Pilots
The Weeknd
Artista Revelación:



Alessia Cara
Desiigner
Lil Uzi Vert
Lukas Graham
Zayn
Premio Billboard Chart:
Luke Bryan
Nicki Minaj
The Chainsmokers
The Weeknd
Twenty One Pilots
Artista masculino:



Justin Bieber
Drake
Future
Shawn Mendes
The Weeknd
Artista femenina:



Adele
Beyonce
Ariana Grande
Rihanna
Sia
Dueto o grupo:



The Chainsmokers
Coldplay
Florida Georgia Line
Guns N' Roses
Twenty One Pilots
Artista del Top Billboard 200:



Beyonce
Drake
Prince
Twenty One Pilots
The Weeknd
Top Hot 100 Artist
The Chainsmokers
Drake
Rihanna
Twenty One Pilots
The Weeknd
Artista superventas:
The Chainsmokers
Drake
Prince
Justin Timberlake
Twenty One Pilots
Artista en la Radio:
Justin Bieber
The Chainsmokers
Drake
Rihanna
Twenty One Pilots
Top Streaming Songs Artist
The Chainsmokers
Desiigner
Drake
Rihanna
Twenty One Pilots
Artista social (redes):



Justin Bieber
BTS
Selena Gomez
Ariana Grande
Shawn Mendes
Mejor artista de gira:



Justin Bieber
Beyonce
Coldplay
Guns N' Roses
Bruce Springsteen & The E Street Band
Artista de R&B:



Beyonce
Bruno Mars
Frank Ocean
Rihanna
The Weeknd
Gira de R&B:



Beyonce
Lionel Richie
Rihanna
Mejor artista de rock:
Coldplay
The Lumineers
Metallica
Twenty One Pilots
X Ambassadors
Mejor gira de rock:



Coldplay
Guns N' Roses
Bruce Springsteen & The E Street Band
Mejor artista latino:



J Balvin
Juan Gabriel
Los Plebes Del Rancho De Ariel Camacho
Maluma
Nicky Jam
Mejor artista de electrónica / dance:



The Chainsmokers
Calvin Harris
Major Lazer
DJ Snake
Lindsey Stirling
Mejor álbum de Billboard 200:
Beyonce, Lemonade
Drake, Views
Rihanna, Anti
Twenty One Pilots, Blurryface
The Weeknd, Starboy
Mejor banda sonora:



Hamilton: An American Musical
Moana
Purple Rain
Suicide Squad: The Album
Trolls
Mejor álbum de R&B:



Beyonce, Lemonade
Bruno Mars, 24K Magic
Frank Ocean, Blonde
Rihanna, Anti
The Weeknd, Starbe Got It From Here…Thank You For Your Servicecord
Mejor álbum de rock:



The Lumineers, Cleopatra
Metallica, Hardwired…To Self Destruct
Radiohead, A Moon Shaped Pool
Red Hot Chili Peppers, The Getaway
Twenty One Pilots, Blurryface
Mejor álbum latino:



J Balvin, Energia
CNCO, Primera Cita
Juan Gabriel, Los Duo 2
Juan Gabriel, Vestido De Etiqueta: Por Eduardo Magallanes
Los Plebes del Rancho de Ariel Camacho, Recuerden Mi Estilo
Mejor álbum de música electrónica / dance:



The Chainsmokers, Bouquet
The Chainsmokers, Collage
Flume, Skin
Kygo, Cloud Nine
Lindsey Stirling, Brave Enough
La mejor canción del Top Hot 100:
The Chainsmokers Featuring Halsey, "Closer"
The Chainsmokers Featuring Daya, "Don't Let Me Down"
Drake Featuring WizKid & Kyla, "One Dance"
Justin Timberlake, "Can't Stop The Feeling!"
Twenty One Pilots, "Heathens"
La mejor canción superventas:

The Chainsmokers Featuring Halsey, "Closer"
The Chainsmokers Featuring Daya, "Don't Let Me Down"
Drake Featuring, WizKid & Kyla "One Dance"
Justin Timberlake, "Can't Stop The Feeling!"
Twenty One Pilots, "Heathens"
La mejor canción de la radio:



The Chainsmokers Featuring Halsey, "Closer"
The Chainsmokers Featuring Daya, "Don't Let Me Down"
Drake Featuring WizKid & Kyla, "One Dance"
Sia Featuring Sean Paul, "Cheap Thrills"
Justin Timberlake, "Can't Stop The Feeling!"
Mejor canción de streaming (Audio):
The Chainsmokers Featuring Halsey, "Closer"
Drake Featuring WizKid & Kyla, "One Dance"
D.R.A.M. Featuring Lil Yachty, "Broccoli"
Rihanna, "Needed Me"
The Weeknd Featuring Daft Punk, "Starboy"
La mejor canción de videoclip en streaming:
The Chainsmokers Featuring Halsey, "Closer"
Desiigner, "Panda"
Zay Hilfigerr & Zayion McCall, "JuJu On That Beat (TZ Anthem)
Rae Sremmurd Featuring Gucci Mane, "Black Beatles"
Twenty One Pilots, "Heathens"
La mejor canción rock
Lil Wayne, Wiz Khalifa & Imagine Dragons with Logic & Ty Dolla $ign Featuring X Ambassadors, "Sucker For Pain"
Twenty One Pilots, "Heathens"
Twenty One Pilots, "Ride"
Twenty One Pilots, "Stressed Out"
X Ambassadors, "Unsteady"
La mejor canción latina



Daddy Yankee, "Shaky Shaky"
Enrique Iglesias Featuring Wisin, "Duele El Corazon"
Nicky Jam, "Hasta El Amanecer"
Shakira Featuring Maluma, "Chantaje"
Carlos Vives & Shakira, "La Bicicleta"
La mejor canción dance / electrónica



The Chainsmokers Featuring Halsey, "Closer"
The Chainsmokers Featuring Daya, "Don't Let Me Down"
Calvin Harris Featuring Rihanna, "This Is What You Came For"
Major Lazer Featuring Justin Bieber & MO, "Cold Water"
DJ Snake Featuring Justin Bieber, "Let Me Love You"
---
Opiniones de lectores
---